Voice Call Management
Call management software that works the way you do.
Get connected, stay connected and effectively manage all of your phone system operations in the cloud.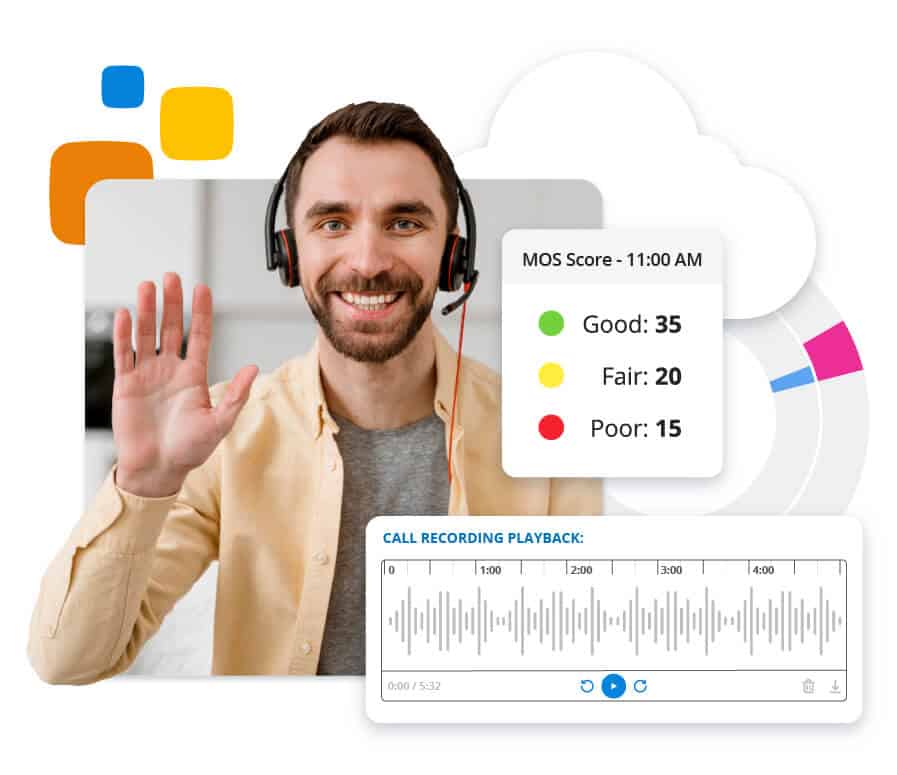 Unified Call Management
Call Management Software All in One Place
Managing a team of agents and ensuring an exceptional level of customer service is a tough job. That's where a robust, all-in-one call management solution can help make your job easier. 
With a centralized and intuitive interface, handling all of your inbound and outbound calls, in-house and remote agents, routing rules, business phone numbers and carriers, has never been easier. 
It's why more businesses rely on our award-winning communications platform.
AVOXI Awards & Recognition
Performance-Boosting Features
Effortlessly Manage the Quality and Navigation of Every Call
Call Insights
Take control of your voice performance.
Track sound quality
Drill down into the MOS, packet loss and jitter metrics of every completed call within your business to ensure consistent uptime.
Elevate the experience
A poor connection can stand in the way of a positive customer outcome. Identify the quality of service (QoS) before it interferes with your operations.
Troubleshoot directly with support
Submit support requests directly from your dashboard. Our support team is available 24/7 to resolve quality issues on the spot.
Call Recording
Stay ahead of quality assurance and compliance.
Fully compliant worldwide
Remain in legal compliance and limit your business liability with cloud call recording software. Store records for up to 365 days.
Improve agent performance
Manage recordings, score calls and leave detailed notes that help boost quality assurance and new team member onboarding processes.
Affordable call recording
Enable call recording for just $6.99 USD per month, per number. Enjoy complimentary phone system features including IVR, call routing and more.
Interactive Voice Response (IVR)
Provide your customers with self-service options.
Personalize navigation
Customize greetings, ring strategies and self-guided intelligent IVR menus for an elevated, more personalized experience.
Build agent success
Reduce call transfers, lower hold times and improve performance with refined VoIP routing setups tailored to customers' needs.
Reduce costs
Quickly set up, scale and lower your cost-per-call with advanced routing solutions designed to eliminate hardware resources.
Simplified Carrier Consolidation
Quickly Deploy Numbers and Manage Your Total Inventory
Porting
Seamlessly port and hold onto your business identity.
Retain legacy numbers
Transfer your business numbers to us for free. Our international porting team makes it quick and easy to port numbers from 100+ countries.
Maintain consistent communications
Keep the phone numbers your customers and business partners recognize across all of your channels, saving time and money by removing the need for new marketing materials.
Always-on service
Enjoy a smooth transition from the start with our excellent carrier relationships and efficient documentation process.
Call Forwarding
Take calls on and offline.
Enhance team mobility
Work smarter, wherever you are. Redirect calls to provide customer assistance in real-time and never miss a call.
Create communications synergy
Send calls to multiple devices and channels, including mobile and desktop phones, email, PBX integrations and IVR.
Grow company presence
Make it easy for customers to reach you. Expand your local presence when you route calls to geo-based offices, numbers and extensions.
Session Initiation Protocol (SIP)
Connect your way with your technologies.
Take steps toward the cloud
Upgrade to the cloud at your own pace, without replacing your entire infrastructure, through secure SIP-enabled connections.
Unify business communications
SIP trunking empowers scale and flexibility, giving you full control over all of your business communications processes.
Save time and resources
Tech stack consolidation, reduced call rates and virtual phone lines allow businesses to save time and money on needless spending.
Direct Routing
Promote internal and external collaboration.
Boundless coverage
When coverage is limited, look to direct routing. Microsoft Teams users can provision numbers from us in 150+ countries - right on your MS Teams' platform.
Unlock more tools
Enjoy a wider range of complimentary call handling tools. Leverage advanced IVR, local presence dialing and more to amplify your inbound and outbound conversations.
Exceptional voice quality
Every direct routing customer is covered by redundant and high-quality voice routing, a Teams-certified SBC, 24/7/365 support and a dedicated account manager.
Additional Resources to Help You Get the Needle Moving
Call Insights
Improve VoIP
Call Quality
SIP Integration
MS Teams
vs Direct Routing
Interactive Voice Response
Enterprise
Guide to IVR
Number Transfer
Porting Business
Phone Numbers