Company Wellness Solutions Expands Reach, Brings Wellness Relief to More Clients with AVOXI
Company Wellness Solutions has seen an uptick in revenue opportunities through AVOXI's expansive global coverage in hard-to-reach countries. Discover their success in expanding reach and services in new markets all from one centralized platform.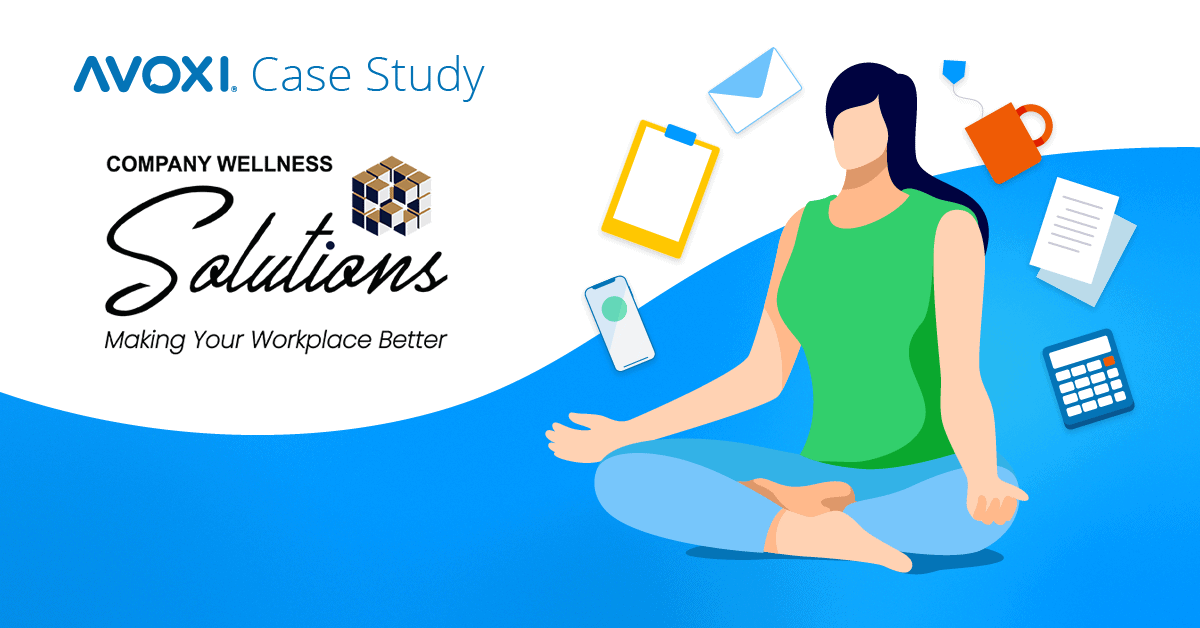 Company Wellness Solutions, a leading South Africa-based wellness and employee assistance program (EAP) provider, leans on AVOXI's global communications platform to connect its international clientele's staff with its network of medical professionals, legal advisors, and counselors from their call center.
Establishing a recent partnership in February of 2021, AVOXI has delivered hard-to-get toll free coverage to its African markets while reducing total ownership costs. With modern cloud infrastructure and exceptional support, Company Wellness Solutions has been able to access more international clients, connecting their employees with EAP providers. 
"Our agents needed a system they could rely on," says Damien Seid, CEO of Company Wellness Solutions. "AVOXI is that system -- one that gives my teams reassurance of consistent uptime and the call clarity they require to produce impactful - and possibly life-saving - interactions."
Problems to Solve for Company Wellness Solutions
Frustrated by lengthy lead times and unsuccessful setups from other providers, Company Wellness Solutions needed a voice provider that could pull through for them at the pace they required. They sought a solution with access to new numbers in African markets and voice quality their agents could rely on. They discovered AVOXI. 
Expand Coverage to International Clientele.

With client staff around the world - and many working remotely - Company Wellness Solutions desired a global communications platform that could provide reliable toll free numbers for their clients and agents across Africa. AVOXI's ease-of-use and self-service interface made it simple to add and scale as they acquired new customers. 

Instant-Access Virtual Numbers.

Company Wellness Solutions needed a global platform that offered fast toll free numbers in their desired markets and would connect to their South African call center agents with no downtime. AVOXI made it easy to buy and port virtual numbers from within the platform instantaneously. 

Exceptional Voice Quality.

A communications provider with consistent uptime and exceptional voice quality was crucial to Company Wellness Solutions's operation. They needed a platform that could uphold and withstand their inbound call load, so agents could provide the essential relief and wellness advice for their customers' employees. 
The AVOXI Solution
In order to expand and access more clients, Company Wellness Solutions needed a platform with network infrastructure and number inventory that could support its bottom line and future growth. For Damien Seid, CEO, it was clear that a reliable global voice technology with expansive market coverage, high-definition voice, and stellar support was the answer. 
Expansive African Market Coverage.

With AVOXI's broad voice coverage in hard-to-get countries like Kenya and Nigeria, employees of Company Wellness Solutions's clients can easily connect with medical professionals at any time, from any location. AVOXI makes it easy to port and purchase virtual numbers for a quick and successful setup while tracking ownership costs from a centralized platform. 

Reliable Software & User-Friendly Interface with HD Voice.

AVOXI's reliable platform and user-friendly interface enable Company Wellness Solutions to receive HD-quality calls and deliver excellent customer service with full confidence. With AVOXI infrastructure supporting its call center operations,

their agents enjoy clearer calls, better uptime, and a suite of call features that enhance the customer experience. 

24/7/365 Customer Support.

Working with a support team that could quickly and efficiently set up their communications platform was important to Company Wellness Solutions. AVOXI's support team got their agents set up in minutes with numbers that had been authenticated and thoroughly vetted prior to launch. 

Supporting Business Growth.

AVOXI's scalable cloud platform has empowered Company Wellness Solutions to access their international clients and grow their business. With a modern cloud solution purpose-built for supporting growth, Company Wellness Solutions has accelerated its number portfolio, even expanding into the European market. 
"In

a short amount of time, AVOXI has opened up additional revenue streams for us by expanding our access to a larger market of customers," notes Mr. Seid. "We're eager to grow our partnership and expand our services further in the coming months."
Expand Market Reach with Modernized Global Communications
Looking to modernize communications and expand markets to reach new customers like Company Wellness Solutions? AVOXI is the cloud communication solution of choice for global healthcare companies. Connect with us today to see what we can do for your business expansion goals.