AVOXI Hits the Mark Where Others Fall Short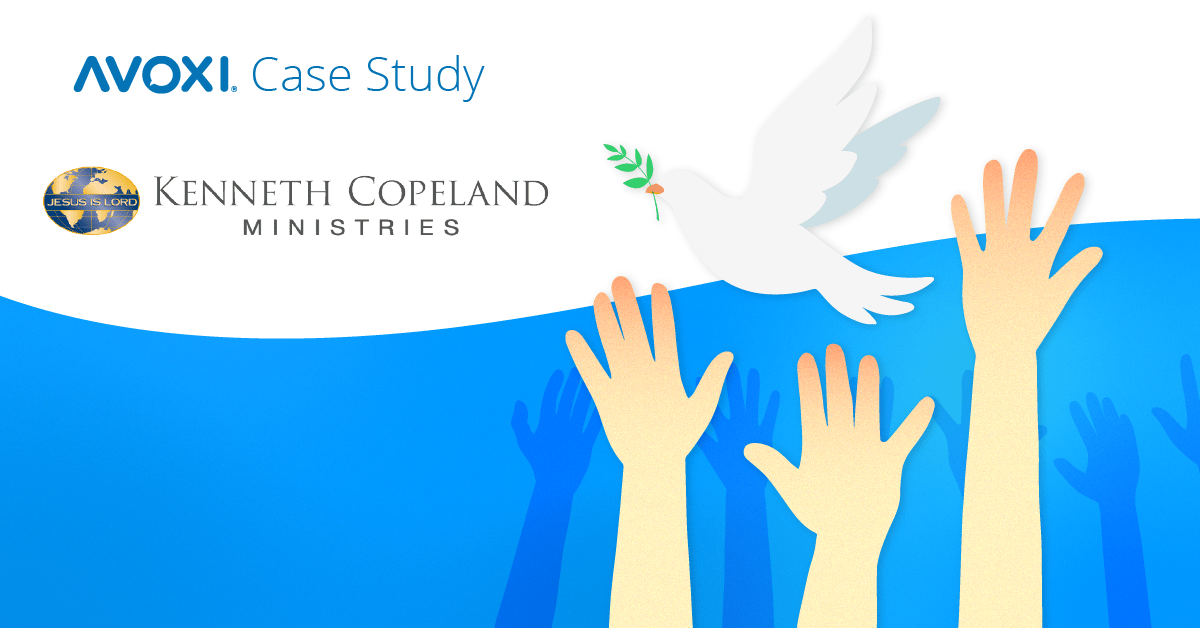 The Challenge
Kenneth Copeland Ministries Colombia found themselves relying on a contact center solution that was no longer fitting their business needs in the LATAM region. With a growing international audience, KCM Colombia needed an intuitive, cloud-based contact center platform with reliable VoIP and CRM integration technology to establish streamlined communication channels, particularly with their Spanish-speaking community.  
The Solution
After evaluating other solutions, KCM Colombia ended up moving their contact center technology to their long-time voice partner, AVOXI. Their technology would provide dependable global voice coverage while equipping their LATAM team to work more efficiently leveraging CRM integrations and cloud-based solutions.
The Result
By strengthening their communications infrastructure with AVOXI, KCM Colombia was able to improve business performance by integrating essential tools that drive their operations, serve their bottom line, and empower their international team to work more efficiently - all while safeguarding them from unexpected global crises like the COVID-19 pandemic. 
Communicating a Message of Faith Across the Globe
Spreading a message to millions in Latin America (LATAM) relies on robust communication technology. Kenneth Copeland Ministries, headquartered in Fort Worth, Texas, has been passionately teaching Christians all over the world how to apply the principles of faith to their lives for over 50 years. With ministry offices in five continents, KCM's messaging must reach internationally through effective means of communication. 
Marcos Rey, Director of Latin America at Kenneth Copeland Ministries, and long-time client of AVOXI, is responsible for building strategies that reach Spanish-speaking audiences in the LATAM market. In doing so he has built - and continues to optimize - a resilient infrastructure across their LATAM market that is flexible and scalable. With the expansion of technology and an increasing need to facilitate inbound and outbound communication with KCM's audience, Marcos and his team are having to work harder now than ever before.
AVOXI always has our back.

- Marcos Rey, Director of LATAM at KCM
AVOXI Hits the Mark Where Other Providers Fall Short
While Marcos is based in Texas, his team resides in Colombia. They lean on contact center software for their inbound prayer requests, but also heavily for their outbound efforts to entice partners and friends to participate in their events held frequently throughout LATAM. 
Before selecting AVOXI as its cloud communications partner, Marcos's team was relying on a well-known contact center platform from a California-based competitor that couldn't keep pace with their daily operations. 
Poor call quality, unsatisfactory customer service, and undependable technology and functionality were some of the common challenges his team faced. "The services provided were subpar at best. When I would reach out for assistance, I was left feeling unsatisfied with how my issues were being handled," explains Marcos. 
In order to build the resilient LATAM infrastructure Marcos was tasked to do, he needed a virtual contact center he could depend on from a provider with superior call quality and customer support. As KCM's global and LATAM audience grew, Marcos sought a platform that could scale with them and integrate with their essential business tools to simplify internal processes. 
Knowing his legacy system was lacking and unable to fulfill those needs, Marcos made a change. 
Turning to a Reliable Partner to Support Their Growth 
KCM originally became a customer of AVOXI in 2015, relying on them for global virtual numbers to support their LATAM audience. As their current contact center provider continued to fall short of their business needs, Marcos made the decision to switch to AVOXI and incorporate their latest contact center solution in 2019. 
He enjoyed AVOXI's expansive catalog of virtual numbers, easy-to-use interface, white-glove customer service, and its ability to integrate with their CRM, Zoho. 
From Day 1 of integrating AVOXI's cloud-based contact center into the center of their communications infrastructure, KCM was equipped to weather any storm - whether it was an anticipated climb in outbound calls as Marcos and his team continued to penetrate the LATAM market or a completely unexpected spike in inbound calls due to the unforeseen COVID global pandemic. 
Regardless of the expected or unexpected need, KCM Colombia was able to keep their business running and their partners and friends faithfully engaged with AVOXI's cloud-based, streamlined solutions.
"Switching to AVOXI was a game-changer in how we communicate with our partner and friends. Our outbound call services are more streamlined, and we've been able to apply the same functionalities to our COVID-fueled inbound operation," describes Marcos. 
Boosting Agent Productivity One Call at a Time
As AVOXI's contact center solution became part of KCM Colombia's "power core," it was more important than ever for them to integrate their other essential business technologies. In 2020, he worked closely with AVOXI's development team to personalize the integration with their Zoho CRM, leading to much-needed efficiencies across his team. 
Our outbound call services are more streamlined, and we've been able to apply the same functionalities to our COVID-fueled inbound operation. 

- Marcos Rey, Director of LATAM at KCM
While the two technologies began to work together and seamlessly feed important information to his team, Marcos was able to boost agent productivity across more than 10,000 active contacts thanks to the new streamlined communications. The simplified workflows and automated processes have helped minimize redundancy that previously slowed his team down. "Connecting Zoho with our contact center was simple and has allowed us to quickly identify contacts," said Marcos.  
With AVOXI's reliable global infrastructure and integration-enabled technology, KCM has peace of mind knowing their operations are running efficiently and can go uninterrupted with the power of the cloud. 
"AVOXI enables us to gain confidence that we have a great partner," says Marcos. "If we move and grow, they always have our back."