Direct Routing for Microsoft Teams
Microsoft Teams Direct Routing
Award-Winning VoIP Calling for MS Teams
Microsoft's #1 Voice Integration for International Calling

Industry-leading voice quality delivered over tier 1 VoIP networks. 

Assign Phone Numbers from 170+ Countries

Manage toll free, non-geographic, mobile and local virtual numbers in 170+ countries - including 100 regions not covered in Calling Plans.

Teams-Certified SBC with Dedicated Configuration

Your Direct Routing solution includes our Microsoft-approved SBC solution, configured with our dedicated telephony team. 

Select Outbound Caller ID in 70+ Countries

Upgrade your Teams outbound caller ID options to 70+ countries and growing.
Teams Direct Routing with Microsoft-Certified SBC Solution
Direct Routing provides enhanced voice services for your Teams phone system compared to Microsoft Calling Plans. With industry-leading call quality, phone number coverage in 170+ countries, and 24/7/365 live support, AVOXI is the top Direct Routing provider for international calling in Teams. 
AVOXI's Direct Routing as a Service includes our Microsoft-certified SBC solution and dedicated implementation with our experts. Whether you already have an SBC device or opt for our hosted solution, our experts are with you every step of the way. 
Exceptional Global Voice Starts with Direct Routing
Don't settle for the limited coverage, even more limited voice features, or overpriced call rates that come with Microsoft Calling Plans. Direct routing connects your Teams phone system with AVOXI's world-class voice network. Assign virtual phone numbers in Teams from 170+ countries instead of 33. Expand your outbound caller ID coverage from 17 countries to 77, including hard-to-get countries throughout APAC, EMEA, and South America.
Try Microsoft's top voice integration with no setup fees or minimum contracts. Just exceptional voice service with 24/7/365 dedicated support.
Assign Virtual Phone Numbers from 170+ Countries in MS Teams
Calling Plans only include limited phone number options in 33 countries. Direct routing with AVOXI let's you assign toll free, non-geographic, and local numbers from 170+ countries in MS Teams.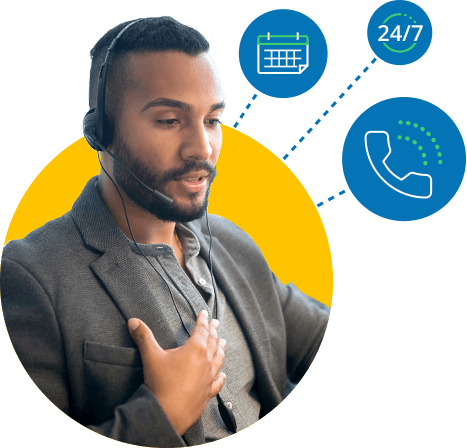 Microsoft-Approved Hosted SBC & Dedicated Implementation Included at No Extra Cost
Centralize, configure and route all of your business numbers in Microsoft Teams through our Teams-certified hosted SBC or your own session border controller. Every Direct Routing customer is covered by 24/7/365 live support, dedicated account management, and the world's most reliable global voice network for Teams. 
Unmatched Global Voice Network for International Calling in Teams
Microsoft Teams customers can benefit from AVOXI's established network of in-country local carriers to ensure redundant and high quality voice call routing. AVOXI's long tenure of relationships with carriers in local markets means you are getting the best possible rates. Our proactive support team monitors voice connectivity and is here to support you 24/7/365.
Direct Routing for Microsoft Teams FAQs
Customers will need a voice-enabled Teams license for users to make and receive phone calls through Direct Routing.
An AVOXI license is not required to connect with Microsoft Teams. Simply purchase a virtual number from AVOXI and integrate it into your Certified Microsoft SBC (Session Border Controller) via our online platform.
Configuration of Direct Routing are program-managed by the AVOXI implementation team to ensure a smooth experience for clients. Most successful configurations take between 24-48 hours to complete once scheduled with our team. 
Yes. AVOXI offers two-way voice services across an expanding list of countries around the world. Some countries are local caller ID capable for in-country services and others are appropriate for international caller ID service.
AVOXI manages redundant cloud-based infrastructure to directly and securely connect to Microsoft Teams through our certified SBC. AVOXI also offers SIP Connect for MS Teams for those businesses with their own SBC. 
Summarized steps: 
Create and verify domain
Create PSTN usage in MS Teams tenant
Create voice routes in Team tenant
Create voice routing policy in Teams tenant
Add SBC to your Teams tenant
Add and assign virtual phone numbers in MS Teams
Create custom caller ID policy in Teams
Configure dynamic caller ID in teams
Our direct routing configuration guide covers each step in detail. 
See How Easy Direct Routing in MS Teams Can Be
Learn how Microsoft Teams Direct Routing from AVOXI can help support your business.
See How Easy Direct Routing in MS Teams Can Be