SIP & Integrations
Move to the cloud and get your tools talking.
Create global communications synergy across your phone system setup with a simple click. Move your deskphone to the cloud, lower cost by eliminating copper lines, and gain exceptional voice quality and flexibility with no coding or architectural changes. It's that easy. 
SIP Into Your Preferred Communications Platform
It's all about working smarter, not harder within your tech stack. And when it comes to your existing phone solution, you should have access to the most global coverage out there.
Our SIP trunking and integrations can help you do just that. 
Configure, customize and gain more reach for your legacy PBX, CCaaS, UCaaS and other business tools when you power your communications with us. Our SIP advantage includes scalable voice across 150+ countries, unlimited channels, intentional cloud redundancy (that's a good thing) for operational continuity, flexible pricing options and eliminating the reliance on traditional phone lines.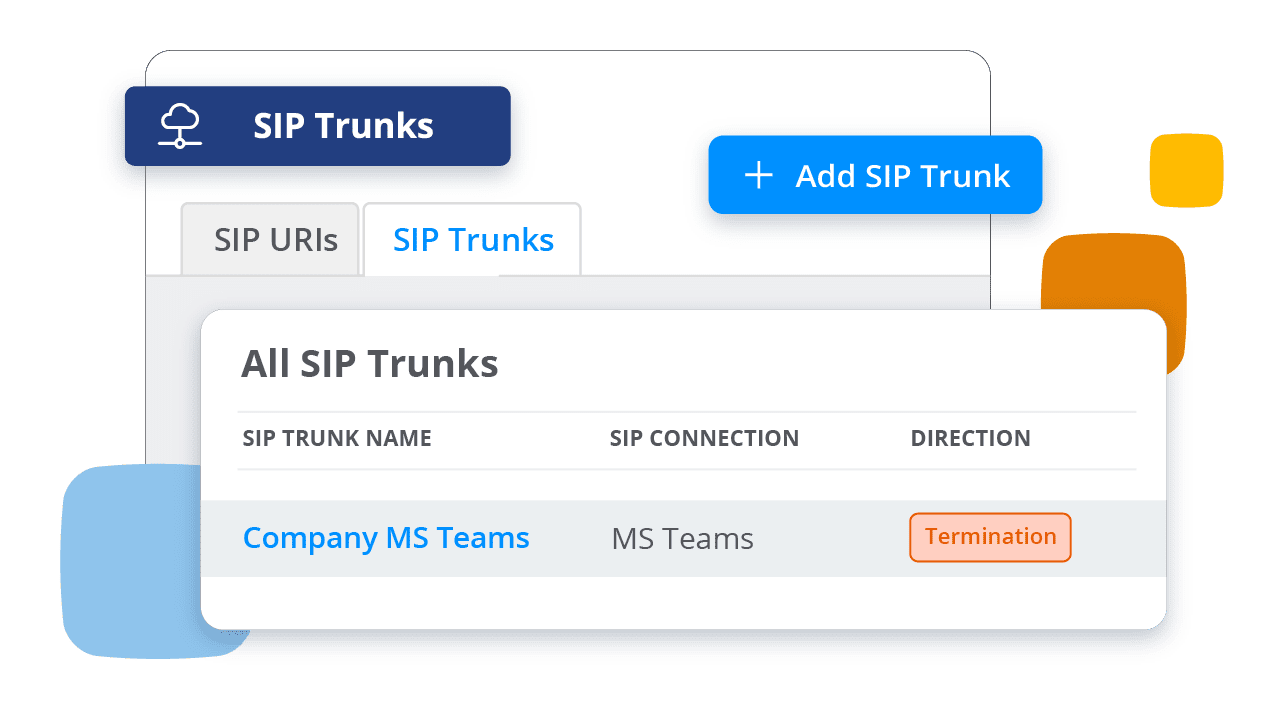 What is our SIP trunking capability?
We provide businesses with a voice connection over the internet (VoIP) to bring traditional on-premise PBXs, hybrid and hosted phone systems more reach and tools on the cloud. 
How SIP Call Flow Works Within Your Stack
Think of a SIP trunk as a telephony highway. For every incoming or outgoing phone call, one SIP channel is required. The highway is the SIP trunk where all the voice traffic flows, lanes are the channels and the cars are the phone calls.

Get More From Your Existing Platform With Integrated SIP Trunking
SIP trunking for PBX
Give your phone system a new voice experience.
Affordable SIP trunks, zero maintenance
Say goodbye to analog phone lines, costly long-distance rates and user maintenance responsibilities. SIP saves you money with VoIP capabilities, unlimited channels and providers taking care of all system rollouts and updates. 
Cloud migration on your terms
Bring your desk phone to the cloud and reduce costs and dependency on on-premise infrastructure. SIP us straight into your legacy PBX system, including Avaya, 3CX, Asterisk and more, to support your concurrent calls.
Maintain business continuity
With several global data centers for failover routing and end-to-end call encryptions, rest assured that your business will always remain online and secured no matter what.
Contact Center as a Service (CCaaS)
Streamline communications across your CX channels.
Create efficiency
Easily convey personalized messages and expand your reach to your customers on any communications channel when you SIP us into your preferred contact center platform: Five9, Genesys, Nice inContact and Talkdesk.
Bring your own carrier (BYOC)
Keep your established carrier and their call rates with our BYOC program.  Unbundle your services and choose your own provider to connect to the cloud for better control over your tech stack.
Deliver top-notch services
Within your contact center platform, easily deliver exceptional service to your customers using tools that offer premium support and increase first-call resolution, including queue callback, skills-based and VIP routing.
Unified Communications as a Service (UCaaS)
Improve performance and productivity across your collaborative tools.
Go beyond limitations
Pair your Microsoft Teams platform with our expansive country global coverage network using direct routing. Reach customers in more places and fill in the gaps where MS Teams comes up short.
Boost engagement and collaboration
Upgrade your MS Teams outbound calling to 80+ countries around the world. Leverage guaranteed local caller ID to boost engagement rate and better strengthen your global communications and internal collaboration. 
Eliminate app toggling
Give your team more support to help boost productivity. Integrate your conferencing tools, voice calls, messaging and call recording together to work as one, accelerating proficiency in one place without toggling between apps.
We Talk to the Business Tools You Use Most
Connect With Customers Your Way
Web Application
Moving to the cloud is as easy as 1-2-3.
Connect your phone system with us and gain access to scalable voice, seamless integrations and enterprise-grade network security in your web browser.
Learn More
Programmable Voice APIs
Build an engaging voice integration that works for you, in the environment you work best in. Tap into new markets and manage your number inventory securely using customizable voice APIs.
Learn More